August's Guide To The Sky
Planets this month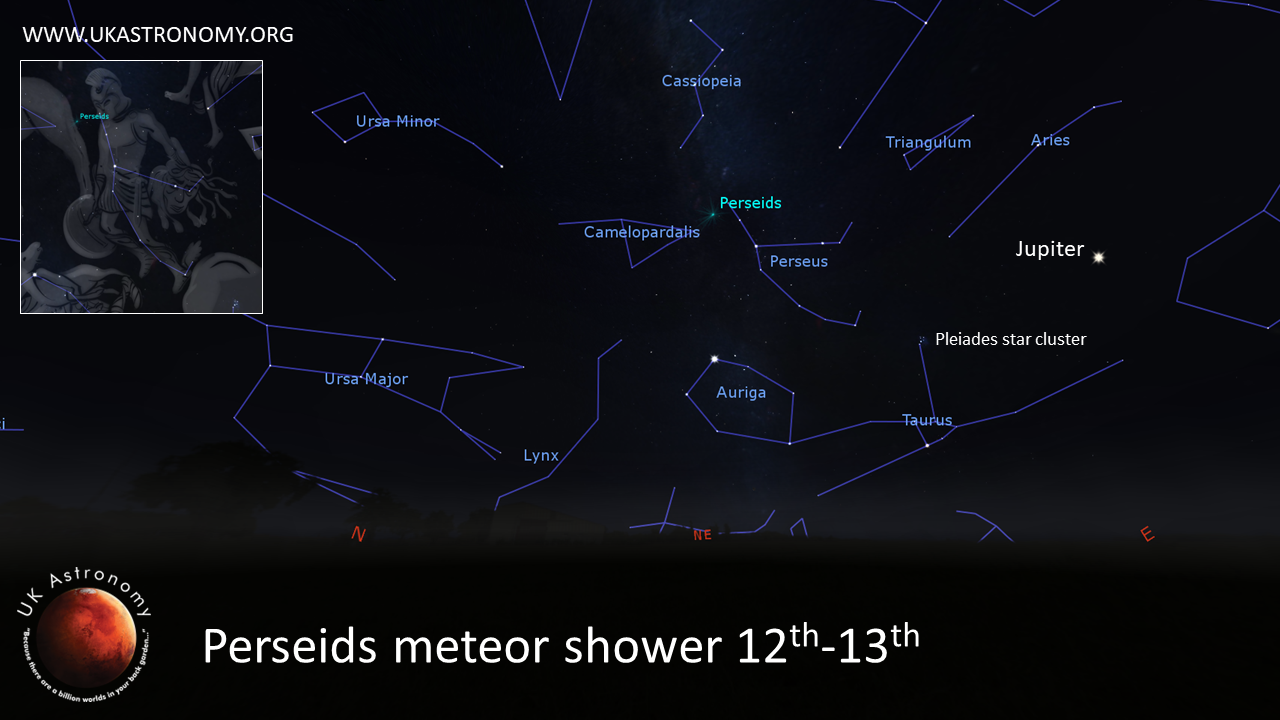 We start this month a little late, but that's due to one of the highlights of the year - the Perseid meteor shower.

The beauty of this event is you don't need any equipment just grab a hot drink, get the kids, dogs or partner and go out into your garden or a nice dark field and look up.

The peak of the shower happens in the middle of August usually 12 / 13th, but we entered the dust stream left over from a comet in July and won't leave it until the end of August. So the shower of meteors slowly builds up each night to its peak, then slowly dwindles back to normality.

These fixed events, like the Perseids, are named due to the location in the sky from where the meteors radiate. The Perseids are named so because they seem to come from the constellation Perseus. In fact, from around the ancient hero's head.

Perseus rises pretty much from when the sunsets - I'd say around 10:00pm onwards to the North East. As the night goes on Perseus rises higher, so you will get a better chance to see the meteors later in the night. Some say around 2:00am will be best due to it still being light till late. So set an alarm.

Every year they predict around 100 an hour, but you're never going to see this amount I'm sorry to say cause of light pollution. The Moon is out of the way rising later as a thin crescent this year, so great conditions.

Personally, I have laid in a field with my wife and counted 67 in around an hour and a half, but it's an unpredictable dust lane left by a comet with dense areas within it, so you never know.

Just think, you're seeing pieces of a comet burning up in our atmosphere as our planet passes through its path and it only takes one slightly larger piece to create a stunning display that you'll remember for ever.

If your thinking of trying to get a pic of one, Wil Cheung has written a guide for using a camera to capture shooting stars. At the bottom of Wil's useful guide I explain how to capture meteors with your smartphone.


So that's the highlight out of the way, where are the planets at the moment?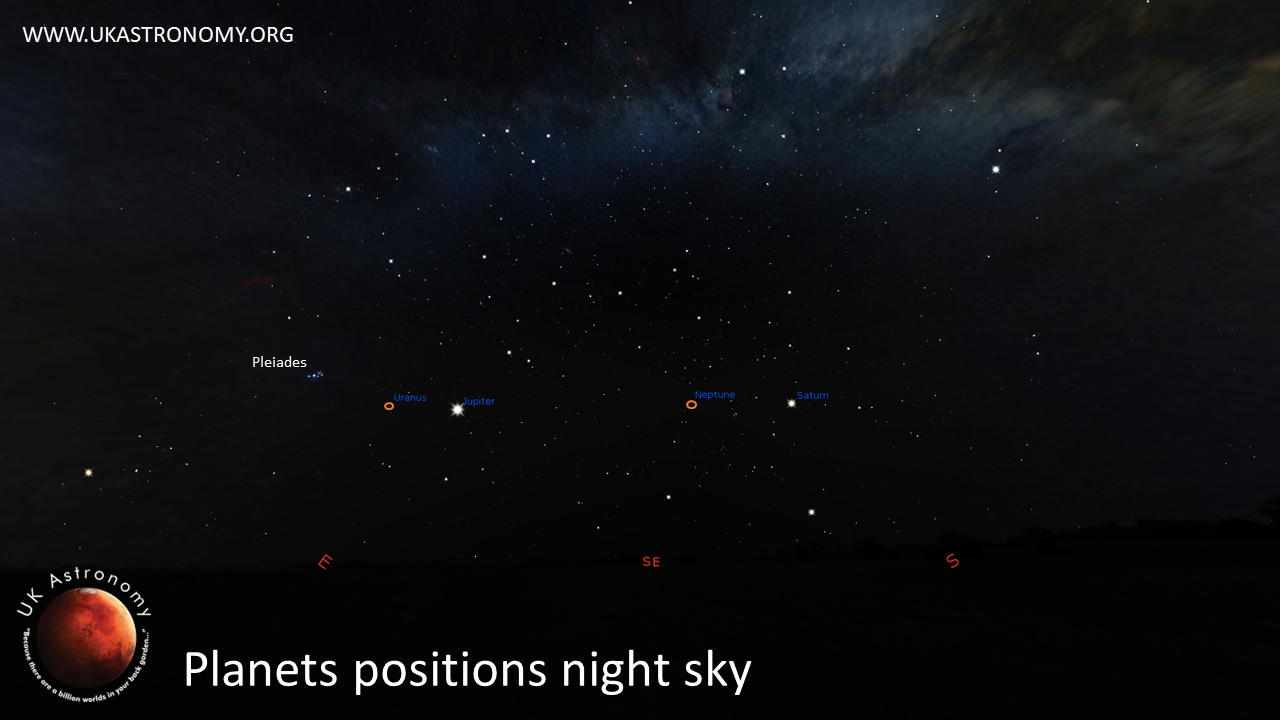 It's not a great month for planets I'm afraid. With the Sun setting around 8:30pm with Venus - which can't be seen - you may (if you have a clear horizon) see the small Mercury and red Mars. But, they are a pretty hard spot - setting very soon after.

Mercury has pretty much reached its greatest elongation, so it will be moving back towards the Sun soon making it not good to spot this month.

Saturn rises just after 9:00pm and is looking good as it rises through the night with Jupiter rising later around 11:15pm. Uranus is just after - in between Jupiter and the star cluster Pleiades. With Neptune below one of the fish representing Pisces, both are in no-mans land, so it will be harder to find.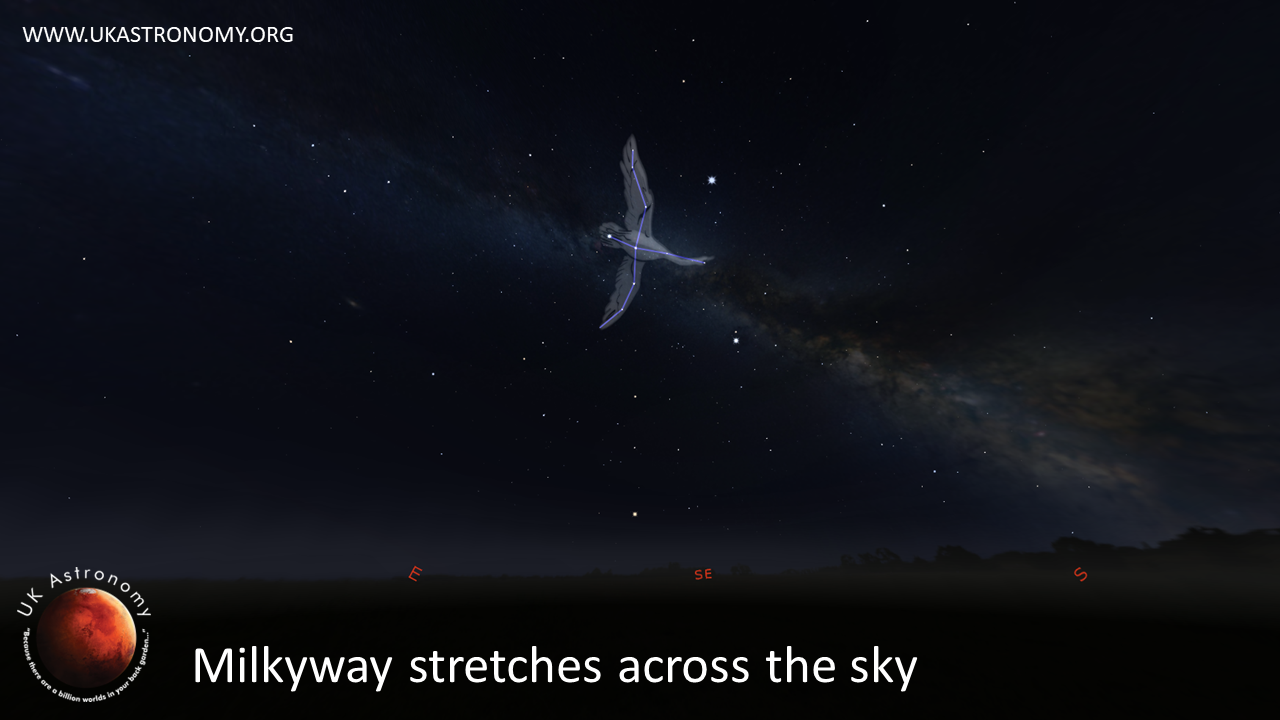 The Milkyway is high and proud over our skies creating a great arching band of stars and dust best seen around midnight to 2:00am. It's a stunning sight in our summer skies. See if you can spot Cygnus the swan flying through it. If you have a telescope, check out the swans head star and its famous double Albireo blue and yellow stars.
18th
August 2023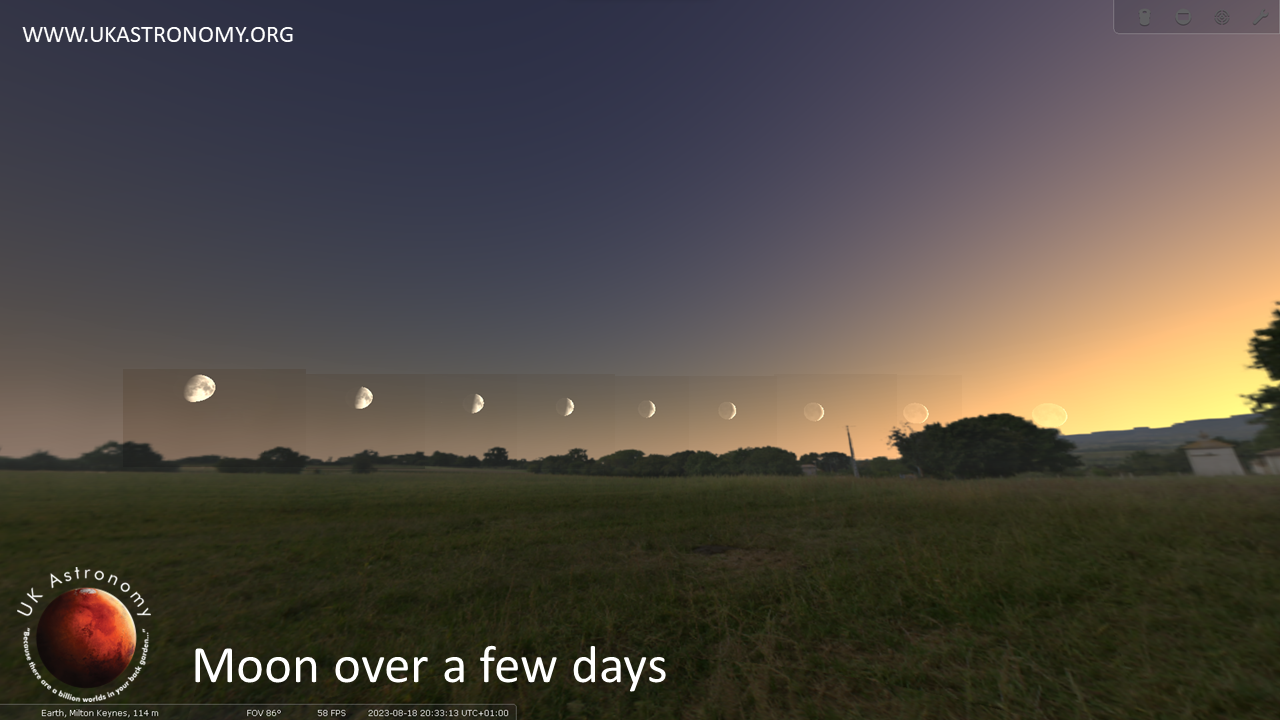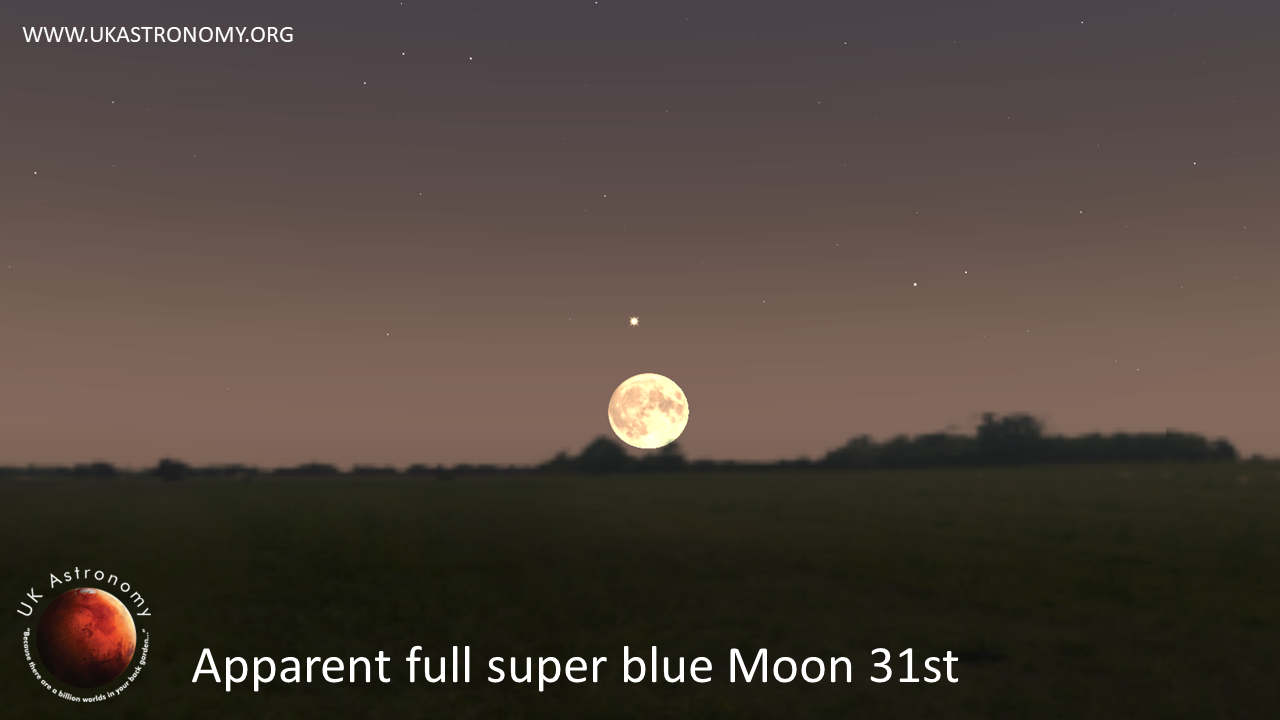 From the 18th onwards, the thin crescent Moon can be seen in the afternoon sky slowly getting brighter and higher as the month goes on, until reaching the 2nd full Moon of the month on the 31st. This full Moon is known as a blue Moon. Only because of this reason not that it will be blue I'm afraid. Being at its closest to the ringed planet Saturn as it rises.

This Moon is also near perigee - meaning it's closest to Earth in its orbit. So it will be dubbed by the media as a "Super Blue Moon".
27th
August 2023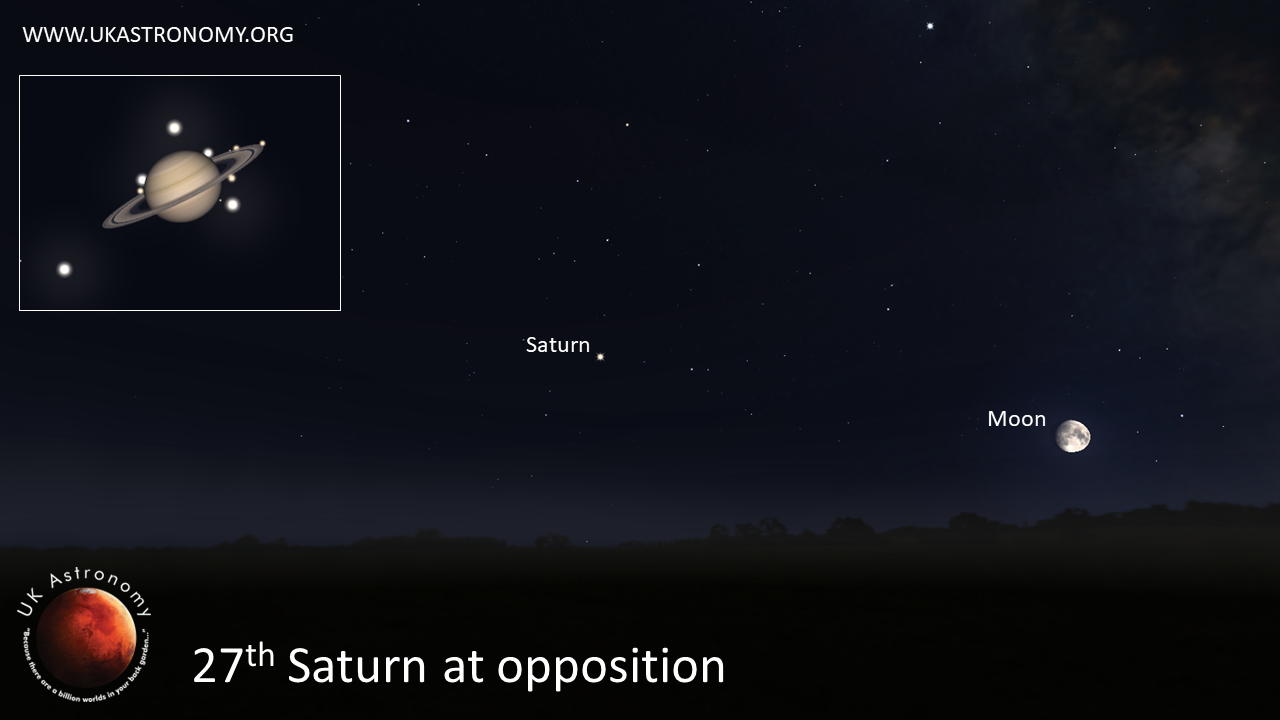 Saturn reaches opposition, which means it is at its best to view the planet as it will seem to be at its biggest and brightest for us in the skies. So this is the month's best time to see the planet.
Clear skies guys, and remember... there's a billion worlds in your back garden!